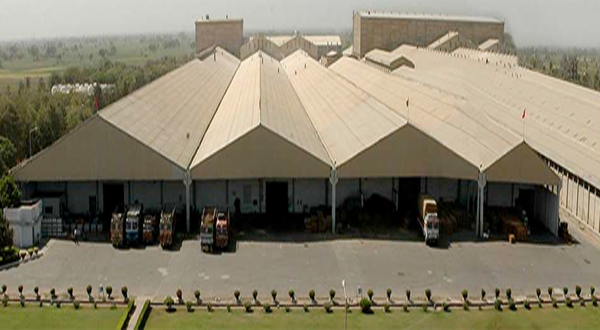 MSM (Million Sq. Meters)
| Gailpur, Rajasthan | |
| --- | --- |
| Ceramic Tiles (MSM) | 29.40 |
| Polished Vitrified Tiles (MSM) | - |
| Glazed Vitrified Tiles (MSM) | 9.10 |
| Total (MSM) | 38.50 |
| Sikandrabad, Uttar Pradesh | |
| --- | --- |
| Ceramic Tiles (MSM) | - |
| Polished Vitrified Tiles (MSM) | - |
| Glazed Vitrified Tiles (MSM) | 11.00 |
| Total (MSM) | 11.00 |
| Malootana, Rajasthan | |
| --- | --- |
| Ceramic Tiles (MSM) | - |
| Polished Vitrified Tiles (MSM) | 6.50 |
| Glazed Vitrified Tiles (MSM) | - |
| Total (MSM) | 6.50 |
| Srikalahasti, Andhra Pradesh | |
| --- | --- |
| Ceramic Tiles (MSM) | - |
| Polished Vitrified Tiles (MSM) | - |
| Glazed Vitrified Tiles (MSM) | 8.80 |
| Total (MSM) | 8.80 |
| Balanagar, Telangana | |
| --- | --- |
| Ceramic Tiles (MSM) | 4.75 |
| Polished Vitrified Tiles (MSM) | - |
| Glazed Vitrified Tiles (MSM) | - |
| Total (MSM) | 4.75 |
| Morbi, Gujarat (2 Plants) | |
| --- | --- |
| Ceramic Tiles (MSM) | - |
| Polished Vitrified Tiles (MSM) | 8.90 |
| Glazed Vitrified Tiles (MSM) | 5.70 |
| Total (MSM) | 14.60 |
| Total | |
| --- | --- |
| Ceramic Tiles (MSM) | 34.15 |
| Polished Vitrified Tiles (MSM) | 15.40 |
| Glazed Vitrified Tiles (MSM) | 34.60 |
| Total (MSM) | 84.15 |
The company has received the ISO 9001 (for quality management), ISO 14001 (environment management), ISO 22000 (Food Safety Management System) and ISO 50001 (for Energy Management System) certifications across its plants., These plants also fulfill international norms.
Over the years, Kajaria has become synonymous with innovation. New techniques are diligently applied to create tiles that stand apart and speak the language of your soul. Hence every year, we come up with exciting new concepts that voice new emotions and keep up with current trends.
It is a continuous process, which allows us to express through tiles what words can't say and provide our consumers with new and innovative options. The new range of tiles released this year adds to the already impressive Kajaria Collection.