Products -
Tile Adhesives & Grout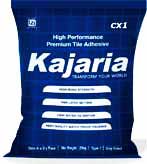 ADHESIVE FOR CERAMIC TILE:
CX1 is grey cement based polymer modified quick set tile adhesive. It gives excellent bond on cementitious surfaces like concrete and plaster. CX1 Adhesive forms a waterproof barrier between two surfaces and has excellent 'grab' properties.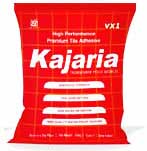 ADHESIVE FOR VITRIFIED TILE:
VX1 is polymer modified cement based tile adhesive specially designed for heavy duty applicants for fixing vitrified tiles & large size tiles on internal & external wall/floor surfaces. This highly flexible adhesive also has an excellent waterproofing ability. When properly applied, it takes care of hollowness problem.
PACK SIZE: 20 kgs.
SHELF LIFE : 1 year in dry unopened bags.
For more details please click here to download Tile Adhesives Catalogue
PRODUCT DESCRIPTION:
Kajaria Unsanded Grout is a superior quality grout. It consist of a carefully prepared blend of white cement, chemical additives and fillers. It is easy to install - just mix with water and use. It is an ideal for floors and walls in both exterior and interior applications.
PACK SIZE : 1 kg.
SHELF LIFE : 1 year in dry unopened pouches.
For more details please click here to download Grout Catalogue