Slim Tiles by Kajaria | India's No.1 Tile Company
The Slim - Kajaria Launches An Incredible Range of The Slimmest Tiles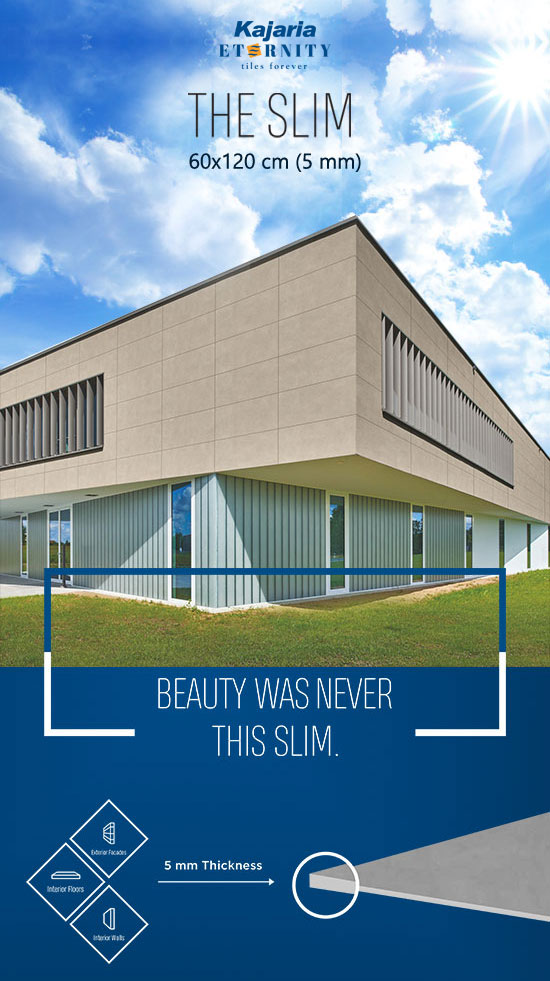 Kajaria – India's No.1 Tile Company has launched a new range of tiles- the Slim Tiles. Only 5mm in thickness, these stunning tiles weigh only 13 kg/square meter. Available in multiple hues and shades with mesmerizing self-design and patterns. There are unique advantages that make choosing these tiles a great decision.
Light Weight:
The Slim tiles are thin thereby reducing the weight and making it easy to install and maintain.
Hygienic & Scratch Resistant:
Designed to keep the surfaces clean with a capacity to withstand abrasions and scratches to the surface.
Impervious Surface:
Crafted to absorb < 0.5% moisture and water, making it an ideal choice for all seasons and applications
Frost Resistant:
It can withstand several freeze-thaw cycles without being damaged and designed to retain strength when the material absorbs water to saturation
Resistant to wear and Tear:
The tiles are strong enough to last longer and have easy maintenance
Stain Resistant:
Designed to withstand strong stains and keeps spaces beautiful for a long time
UV Resistant:
The surface of the tiles have the ability to resist Ultra Violet (UV) rays of sunlight and keep spaces damage-free.
High Bending Strength:
Crafted to withstand heavy burden without deforming or damaging the surface
Environmentally Friendly:
Manufactured with no emission of harmful materials or any kind of chemical reactions, making them safe for building and construction purposes.
Resistant to most Chemicals:
Can withstand chemical reactions to a greater extent
Fire & Heat Resistant:
Can withstand high temperatures without damaging the spaces
Low Thermal Expansion:
Design to resistant changing shape due to thermal expansion.
Install these lightweight tiles on walls & floors and make your rooms come alive with stunning beauty and incredible looks. Kajaria always fulfills its promise of quality products, and the addition of this range to their repertoire of products is another way to fulfill their promise.
Submit Your Enquiry